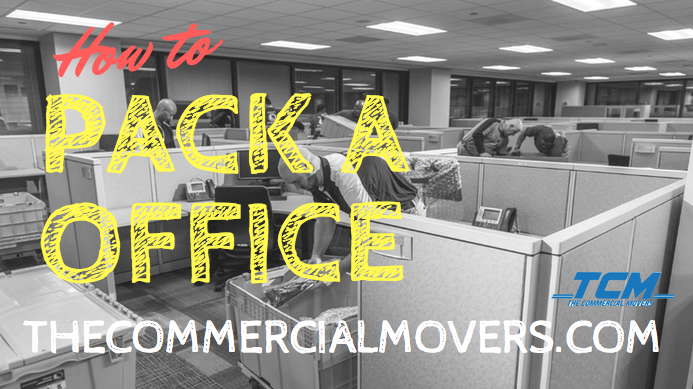 Step 1
* Carton should unfold then square off. Turn it upside down so as to fold the bottom flaps. This way, its print will be upside down. Then, flap A should be completely folded over and down to the inner part of the carton. This is for the Flap A to be against the carton's body.
* Completely fold the Flap B over so as to lie against Flap C.
* When the Flap B is already folder, Flap C should also be folded over the flush along with the bottom part of the carton. Carton should be turned right side up to lay it flat on the bottom.
Step 2
* Once the carton is turned side up right, fold Flap B against the carton's side. Push the hand holes inwards of two sides of the carton in order to lock it through the hand holes on Part B.
* Fold Flap A down to lay flush against the carton's bottom part.
* Start packing the carton. In order for the top flaps to be folded, first, fold small flaps then fold large flaps above so as it will interlock each other.
When it comes to packing, the available options are the one-piece cardboard (self-locking) or E-crates recyclable polystyrene, which is also a box with self-closing flaps. Ensure that you will have proper training in terms of the appropriate ways of stacking and packing E-crates or how to assemble moving cartons of cardboard. Each one comes with advantages depending on the situations. For easy packing and faster processing, it can be preferable to use E-crates. Below, you can check the instructions to learn more about assembly and packaging.
It is essential for all packing to be accomplished before the moving day.
You do not want to move the item that has not been packed yet. This increases the risk of damage.
Prior to the start of the packing process, all items that will no longer be needed should be eliminated. It is best to keep in mind that all personal belongings need to be brought home.
Contents of the storage cabinets need to be analyzed while stocks should be at a minimum. The purchasing of supplies and stationary for the transport to the new area is a necessity.
Separate blotters tag and glass tops and leave on desks
All floor mats and trash bins needs proper tagging
Lamp bases and lamp shades also need tags
For coffee machines and office appliances, a service vendor needs to be contacted. Microwave glass plates need to be removed and well padded. The refrigerator needs to be switched off and unplug. Ensure that the refrigerator's door will be kept open. After it is moved to the new location, it needs to be plugged right away.
GENERAL INFORMATION 
Each department head has to be responsible for giving the staff proper instructions as a way to reduce wasted time during preparation for the move. It is every employee's responsibility to do his or her personal preliminary packing needed for the move. For this method, a comprehensive instruction needs to be provided for packing and marking. Unless stated, the personnel will conduct the packing and unpacking. All employees must be advised that they need to have direct participation on the actual move. No other people should be present aside from the personnel.
FILES
General files: All records have to be transferred to the storage center along with the predetermined period of retention. If the process of moving the files can be prevented, record transferring should be done ahead of time. Office Movers, Inc. affiliate of Office Archives can offer the wide variety of retrieval services and record management that is bar coded.
INDIVIDUAL FILES
Eliminate as many as possible. To do that, there may be a need to check every file and every folder.
SECURITY FILES 
Before and during the move, all cabinets need to be locked. If for instance, security protocols should have escorts, it should be coordinated with the project manager of the moving company before hand.
PERSONAL ITEMS 
The Commercial Movers, Inc will not be held liable for any transportation of such items. Each employee needs to do the moving at their own risk.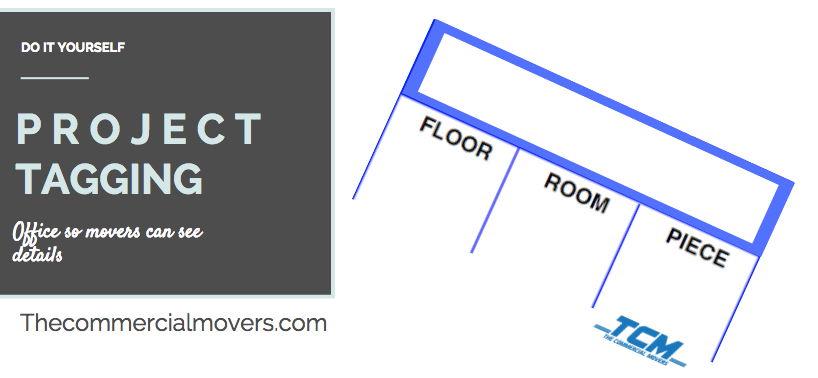 TAGGING AND MARKING INSTRUCTIONS
Each item included in the relocation has to be marked or tagged properly. Do not forget that there are items that come with several parts such as bookcase units that are detachable. Remember to tag each section.
The move coordinator will provide the detailed and specific code assignments for designated floor, rooms and so on. Each tag needs to have accurate information.
There can be some equipment or furniture that should be dismantled for the move like conference tables or L-units. Each piece needs to be tagged with similar tag details.
LOCATION OF FURNITURE IN THE NEW OFFICE – A blank sheet of paper or a placard will be given by the project manager. This is where you will have to draw or sketch the furniture arrangement that you want for the new office. Make certain that each piece can be easilyidentified. Doors and windows must also be drawn properly. A door should always be at the bottom part of the paper. This sketch needs to be handed over to the move coordinator before the move.
LOCATION OF TAGS – Use a uniformed marking system, as it can make it simpler for the movers to locate the equipment and furniture in the new location. The project manager can certainly share some input on how to make the design efficient for everyone.
MOVING LABELS
Every label should be color coded. This must belong to a particular floor. On each specific floor, there will also be an explicit room number. The door of every room must be on the floor plan to depict the room placement as a means of identifying the pieces for proper placement. The building can best be divided into different colors. This can speed your moving process up. With proper room and furniture identification, each would be able to be placed on its designated new place.
SPECIAL EQUIPMENT 
In an office setting, there is some equipment that needs to be serviced by trained personnel only. These may include computer equipment, printers, copiers and the like. Given such, the vendor of the specific machine needs to be contacted before the date of the move. Data from the personal computer should be backed up appropriately. Separate components need to be disconnected before it can be moved. Loose wires must be removed and should be packed using a box.
For instance, other professionals such as a machinist, plumber or electrician need to be contacted for the appropriate disconnection process. These arrangements must be made ahead of time. That internal servicing is necessary and when not done could lead to warranty voids.
Any machines that work with fluids or liquids need to be emptied such as reproducing machines like copier or printer.
Office Movers, Inc cannot be accountable if in case any sort of damage happened when the above instruction is not followed.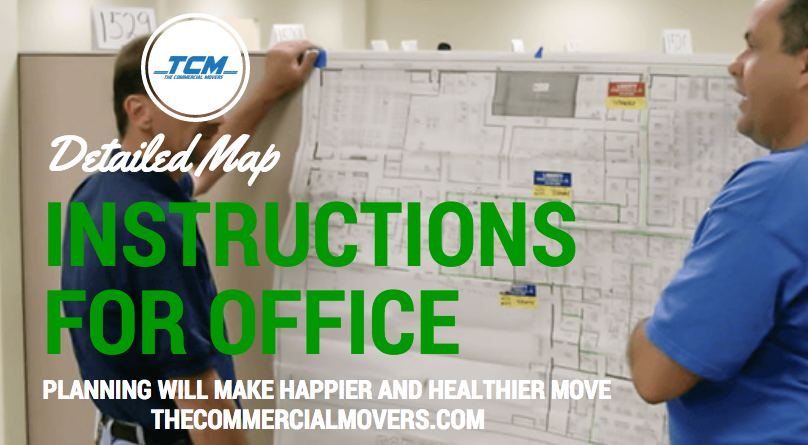 DETAILED INSTRUCTIONS 
Desks – All desks should be emptied. Loose items like pens, pencils and even clips should be sealed inside envelopes. Trays for letter, books, working papers and other documents found on top of the desks needs to be compiled and packed in carton. All glass receptacles that come with paper or other sorts should be protected in a box.
Upright filing cabinets – These types of cabinets can be moved while all the contents are in it. However, internal draws should be tightened as this can make sure that contents will not be moved. Cabinets must be locked if possible, otherwise, you need to make use of filament tape that can help secure the drawers. If you are able to lock it, make sure to keep the key in a safe location. For instance, if that file containing a punch in a lock or a key that cannot be found, then you need to use tape and wrap it around the lock. This is so as to prevent any accidental locking.
Lateral filing cabinets – These are the kind that must be moved alone and without its contents.
All the contents should be packed properly and securely like the use of tapes or locks on drawers.
CONDUCT A PRE-MOVE "PURGE" CAMPAIGN
All personnel should be informed by reading the suggestions and understanding each rationale. Many people who move offices do not know that more items mean more cost. This is because many commercial moves are based on weight. If you have a lot of items, it will cost more to move. This also means that each one needs to do their best in minimizing the things to be moved that are no longer needed in the new office. Performing the necessary housecleaning task must never be delayed. Any obsolete material can already be disposed of so as to decrease the charges associated with packing and moving.
Bookcases – All contents have to be placed in a carton. Right after the packing process, shelves must be removed and be taped together. Shelf pins have to be removed too and be placed inside an envelope.
Supply or storage cabinets – The contents need to be placed in cartons. Cabinet doors should be locked or taped.
Lockers or coat racks – Contents should all be packed including hangers.
Never pack smaller machines like printers and scanners.These machines can remain on top of a stand or desk. Make sure that such equipment is serviced. Do not forget to consider components needing to be disconnected. Use cartons or zip lock bags to pack small pieces like power cords.
Pictures, bulletin boards, and maps – If these items are affixed on the wall, they must be removed. Each must have proper tags and remain against the wall. Movers will take care of it. If there are small pictures, it needs to be compiled and put on a carton. Newspapers can be used to stuff the empty space of the carton.
Plants (living or artificial) – The movers could move it yet cannot be held liable for any plant damage.
THEFT OR LOSS 
In a case of any missing items, the move coordinator must be informed right away. Oftentimes, these pieces went missing due to improper tags or lack of tags and are found in a short time period.
Of course, the moving company cannot be held liable if the items are lost due to the carelessness of others. However, if the items are considered lost while the company is in full control of the situation or if it is proved to be due to the carelessness of the move company's staff then they will be held accountable. We offer security uninformed identification of the crews and sealing of the truck while it is being loaded. It is best that someone will take note or monitor the number of seals that are both numbered randomly because it is attached before it will be removed.
Although there are honest people that do not have any record of stealing, it is simple to get caught up in a situation where stealing is easy and tempting. This is why it is not advisable to give any individuals the slightest chance to steal.