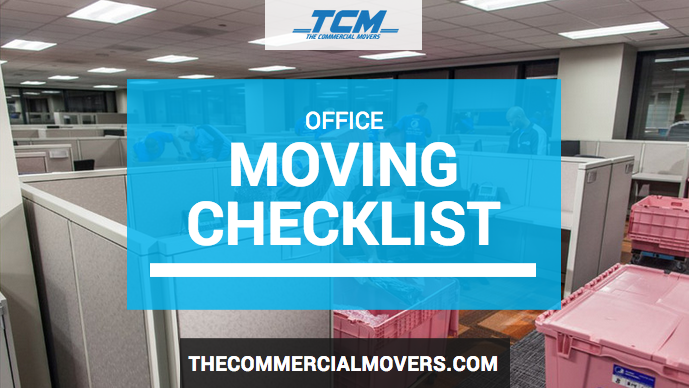 So, you have finally decided to move your office to another location and you still want to maintain productivity and organization of things. We have prepared for you a set of business office moving tips and corporate office move checklist to help with your approaching move.
Moving Office Checklist Steps:
The site about.com can be your best resource to get valuable information regarding office move. The site mentioned that the most essential not to be overlooked when you will select the most suited move company for your office move. You can preview the checklist here.
The search in finding the right commercial moving company is somewhat the same as searching for residential move company. There would be a need to make research about the company and also request for quotations prior to any contract signing.
With a printable checklist, you can remain organized while keeping track of the progress during the entire period. Here is one moving company that provides easy to download and print checklist available on their site. The file is in PDF so as for easy reading and downloads of office moving checklist.
We are currently working hard to expand our database in order to give you the additional moving checklist to download and print. For updates, we encourage that you visit us every now and then.
If you have creative suggestions and complete checklists, you can send it to us anytime. You can ensure that we will review and publish them for everyone to take advantage of them.
Our updated office relocation checklist:
When you are on to a personal move soon, you can download the application MovingAuthority.com. This app comes with a built-in and customizable corporate relocation checklist that allows you to monitor things up. This commercial moving checklist also has To Do's list yet you can also add other things with the use of your phone.
With meticulous thought and advance planning, a successful office move is possible. The checklist for office move provided below is done for planning months before, use what you can. Office Moving and Storage can be helpful to make sure that you have taken into account all the essential factors. It will be best to start the planning about 6 months ahead of the date of the move.
Six months before moving
* Key staff members must have a 'move committee'
* Coordinate with the interior designer and space planner
* Contact the telecommunications people to discuss the telecommunication system and budgetary figures design
* Ask for cost estimation of preliminary office move
* Primary layout of computer facilities should be identified
Three months before moving
* Ask an update from the assigned 'move committee'
* Decide on the telephone system
* Integrate the changes of office design
* Computer facility plans should be developed
Two months before moving
* Confirm the phone hook up
* Finish the changes of office service such as:
* address
* Stationery
* Vending machines
* Copier
* Plant service
*other purchases
* Finalize the decision of which moving company to hire
* Settle telephone changes and floor plans
One month before moving
* All suppliers must be notified about the new address
* All customers must be informed about the move
* A day before the move, equipment services must be scheduled
* Progress of computer system should be verified
* Employee orientation meeting must be made such as
* Security systems
*Troubleshooting
* New processes
Two-three weeks before moving
* New parking spaces must be arranged
* Building and office keys should be ordered
* Building manager should be confirmed about the move
* For furniture and floor plans, moves must be coordinated
* Installation of computer and phone should be finalized
One week before moving
* All furniture should be labeled as per the plan
* Pre-move meeting and demonstration of packing must with the employee be made by the movers
* New facility should be checked. Floor plan and furniture must also be double checked
* Phone and computer installation finalization
One day before moving
* Packaging and labels must be completed
* Phone equipment de-install and re-installment
* Staff walk through of their new workplaces
* Proper areas labeling and post floor plans as per the plan
Moving day
* 'Move committee' and employees of move company should be on-site
* Computer system installment
* Unpack and start to settle at the new place
* Furniture adjustment as required
You finally made it through!
Business Move Planner
Business Moving and Storage is fully aware that the office move can naturally distract the operations of the business. Hence, it is pleased to provide the Moving Instructions Guide that can assist employees to efficiently process the experience.
General Information
Every section head or department must be responsible enough to have their staff to follow the given instruction so as to minimize the loss of time to prepare the move.
Every employee must be accountable to do the primary packing of the move. To assist the task, a detailed instruction for marking and packing should be followed.
If not specified, packing and unpacking must be done by the staff.
It matters a lot that the involved personnel will have direct participation in the move during the move.
Packing Instructions
There will be available one-piece self-locking cardboard and one piece recyclable polystyrene bins for moving cartons. Ensure to get training on how to properly pack and stack bins for the cardboard moving cartons assembly. Each would have an advantage in given scenarios. For easy packing and quick delivery, bins are most preferred to be used. Below, you can find the instruction to get additional information about packing and assembly.
Before the start of the move, all packing must be finished.
All desks must be emptied. Make sure that all pencils, pens, paperclips and loose items are sealed in envelopes. Any working papers, books, letter trays and other pieces found on top of desks should be packed in carton boxes. All glass receptacles must be protected with paper or another padding inside the carton. Making an office furniture checklist and number the items.
Upright Filing Cabinets. Generally, these cabinets will be moved along with its contents. The internal draw should be tightened to keep the contents in its place. If possible, cabinets must be locked. Otherwise, each drawer must be secured using filament tape. If the drawers are locked, keys must be removed and placed somewhere safe. Tip: to prevent accidental locking if in case the file has a punch-in lock, the tape must be locked around the clock. This must be the method to do if you do not have keys.
Lateral Filling Cabinets. This type of cabinet cannot be moved with intact contents. The cabinet must be emptied and all contents must be placed in cartons. Drawers should be secured by way of locking or with tape.
Contents must all be placed inside cartons. When packing is done, shelves must be removed and tape it together. Remove shelf pins and put inside the envelope.
Storage or Supply Cabinets. All the contents must be packed using cartons. Cabinet doors should be taped or locked.
Lockers or Coat Racks. All contents including hangers must be packed.
Small-sized devices like printers, scanners, and others. These devices must not be packed. It can be placed on top of the stand or desk. Use cartons or zip lock bags to pack other small items like cords.
Maps, bulletin boards, and pictures. If these things are secured to the wall must be removed. Each piece must have a label and leave against the wall. Let the mover deal with it. for small pieces of pictures, it should be collected and packed in a carton. Pictures can be stuffed using newspapers.
SPECIAL EQUIPMENT
There is some office equipment that should be handled by the company's trained staff like computer equipment and copiers. Such arrangements can directly be made with the vendor of the machine before the moving day. It is essential for personal computers to be backed up. Separate components need to be disconnected before the day of the move. Loose wires should be removed and put in a box
When special services would need plumbers, machinists or electricians so as to disconnect any equipment, supervisors must be notified beforehand. Internal servicing may be necessary otherwise, service warranties might be voided.
Machines that are used for printing, copying or reproducing with fluid or liquid in it should be drained.
The Commercial Movers will not be accountable if there will be any damage once the criteria above are not fulfilled. Artificial or living plants can be moved by TCM yet if plants are damaged will not be the liability of the company. The staff needs to arrange to handle such things.
SECURITY FILES
Before and during the move, all cabinets must be secured with locks. When security rules would need escorts, arrangements must be made with the certified moving consultant of The Commercial Movers.
PERSONAL ITEMS
Employees need to arrange their personal belongings on their own. Have them make their own office move checklist, to ensure that nothing gets lost. Lost personal items may delay part of the moving process.
Packing Bins
Bins will be provided in stacks so as for easy handling. Choose a crate and put it on accompanying dolly. The dolly must be rolled near the item you wish to pack.
While you enable the interlocking lid with sufficient space in order to completely close it, put as much or as little as you need. Never over stuff. Fragile items could be safer if packed in a strong container. Ensure to put padding in between items so as to prevent any damage.
When loading and closing the first crate, put a label on designated end. Then put the second empty crate at the top of the first. Ensure that bins are aligned in order for labels to be in a single direction. Proceed with the packing like the previous method. Interlocking bins will be in a safe place. This process can be repeated with as much as four bins for every dolly. When you are able to complete packing a single area prior to reaching the limit which is 4 crates, just roll the dolly to another area then proceed with the packing.
Lids are made to interlock and uphold the integrity of contents. For additional security, you may ask your move company coordinator for security seals that are randomly numbered.
When you unpack, you need to remember to reverse the method, remove and stack every empty crate while you go along with the process. The movers will generally collect empty bins in a day or two of the move. Ensure to unpack as quickly as you could.
Extra cartons can be purchased separately from the moving company.
TAGGING AND MARKING INSTRUCTIONS
Every item that will be moved needs to be marked or tagged. Remember that some items have parts like the detachable units of a bookcase. This is why tagging is important.
Code assignments should be specific and detailed for room number and floors and others. It can be obtained from the move coordinator. Ensure that you will fill out proper details on every tag.
Some equipment and furniture might require dismantling in order to be moved like conference tables or L-units. Ensure that each has proper tags.
Furniture location in the new office. Our project manager will provide a placard or blank sheet of paper. Here, you need to draw the preferred arrangement of furniture in the new office. Every item needs to be identified and drawing needs to be close to the scale. Door or windows must also be drawn in the location. Doors must always be at the bottom part. This should be made and given to the move coordinator before the move.
Tags location. It is essential to have a uniform system of marking. This can greatly help the movers to locate the equipment and furniture in your new office. The project manager can be approached to assist with a workable design and capable system.
MOVING LABELS
Every color of the label would identify the piece of a certain floor. Based on the floor, it will go to the specific room number. Each room must have a floor plan that can depict the room placement for the identified pieces. The building can be divided into color-coded floors that can help with a quicker move and eliminates the backup at elevators. Furniture pieces can be at their designated places if all rooms are easy to identify.
THEFT OR LOSS
Any missing items should be reported right away. Most of the times, such missing items can be found in a short span of time. It may be misplaced because of improper or lack of tags.
The Commercial Movers will not honor liability for missing items unless the items are considered missing during the time that they are in our total control or if it could be proven that gross negligence on our part was made. We have security insofar like the uninformed identification of all our staff. We have every truck sealed when it is loaded. It may be necessary that the customer associate to record randomly numbered seal on affixed and before the removal.
Many people are honest yet if provided with a good chance, even those who are very honest may well be likely to steal. Hence, it is not good to give people any opportunity.
Feel free to contact your move consultant if you have additional inquiries regarding packing or planning the move.