Office Movers That Get You What You Need

We are familiar with how a business or a company operates. As a result, we would like to make sure that you and your co-workers return to work as soon as possible and with minimal productivity disruption. So, it seems that it is best to take advantage of a full-service moving company that specializes in providing commercial moves. Specialized office furniture movers must become involved in the move. They will guarantee an effortless transition from the old office to the new one. Use their experience to your advantage to give your move flawless solutions.
The Commercial Movers has worked with several associations, organizations, and government agencies throughout the Los Angeles area. We have aided in moves within or outside of the city. Assisting laboratories to law firms, our customers know that we strive to minimize interruption of all staff. However, we can offer the utmost care to technology and any other such valuable assets. Most moving companies insurance does not cover damages. At TCM, we make sure all of your items are insured and protected. Insured moving is just one step we take in protecting you. We offer coverage for many different moves.
Los Angeles Office Movers
For clients moving office in Los Angeles, the goal is to get back to work within the quickest time. This has been our major focus from start till the end. To prevent any unpleasant surprises during the moving process, we take charge of the planning. This will include the training and preparation of your people beforehand.
We will be putting measures of thorough space protection. This is to ensure that there will be no costly damages and dings. Building a customized inventory when you would like to store your assets within a warehouse is also an option. Storing with us will make sure your belongings are secure because it is climate controlled and safe.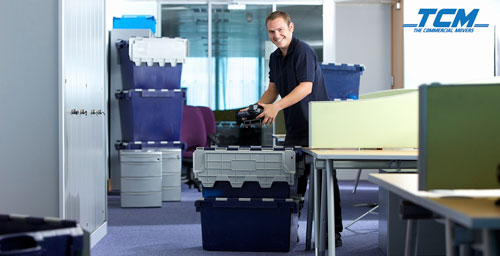 Office Movers: During your Office Relocation
Before Your Corporate Move
On the exact date of the move, you will be accompanied by IOMI (International Office Moving Institute) crews. These crews are skillful when it comes to moving valuable equipment. We have a one of a kind 'Boxless Move' capability that allows us to move filling cabinets properly and with the contents in place. This could save several hours in doing the packing and unpacking of things. There is also a minimal chance of getting the things misplaced. Also, try and conserve resources through the elimination of cardboard boxes stacks.
With the help of our truck fleet, it can limit jostling and bouncing because it is most notably made for commercial moves. It has the systems of air-ride suspension. This fleet is also packed with GPS technology in order for customers to view the tracking of their equipment.
If you will be needing storage, it can store your media files and records in our facilities at reasonable costs. We have a designated Archives team that can rotate files and store magnetic media, boxes, and others. We can also backup tapes securely with on-demand accessibility.
After your move
Once unloaded, unpacked, and reconnected in the new area, we are capable of managing any left behind items from the old location. We are able to support your move even if you want to get rid of unwanted things. Ever forget why you are hanging on to something? Put working things to good use and donate them to goodwill. We can even share unwanted hard drives, documents, and other media etc. As a means of safety, get rid of or recycle the assets that are no longer reusable. On the whole, we must keep any waste to the least that we could.
* Labs and medical offices
* Data centers
* Educational institutions
* Distribution centers
* Distribution centers
* Museums and libraries
* Industrial operations