Office Movers That Get You What You Need

We are familiar with how a business or a company operates. As a result, we would like to make sure that you and your co-workers return to work as soon as possible and with minimal productivity disruption. So, it seems that it is best to take advantage of a full-service moving company that specializes in providing commercial moves. Specialized office furniture movers must become involved in the move. They will guarantee an effortless transition from the old office to the new one. Use their experience to your advantage to give your move flawless solutions.
The Commercial Movers has worked with several associations, organizations, and government agencies throughout the Los Angeles area. We have aided in moves within or outside of the city. Assisting laboratories to law firms, our customers know that we strive to minimize interruption of all staff. However, we can offer the utmost care to technology and any other such valuable assets. Most moving companies insurance does not cover damages. At TCM, we make sure all of your items are insured and protected. Insured moving is just one step we take in protecting you. We offer coverage for many different moves.
Los Angeles Office Movers
For clients moving office in Los Angeles, the goal is to get back to work within the quickest time. This has been our major focus from start till the end. To prevent any unpleasant surprises during the moving process, we take charge of the planning. This will include the training and preparation of your people beforehand.
We will be putting measures of thorough space protection. This is to ensure that there will be no costly damages and dings. Building a customized inventory when you would like to store your assets within a warehouse is also an option. Storing with us will make sure your belongings are secure because it is climate controlled and safe.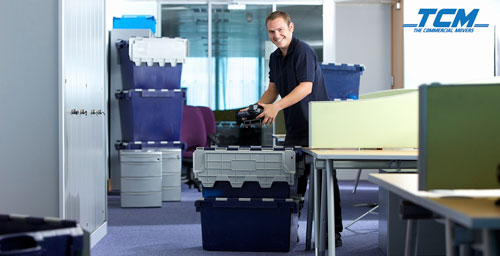 Office Movers: During your Office Relocation
Before Your Corporate Move
On the exact date of the move, you will be accompanied by IOMI (International Office Moving Institute) crews. These crews are skillful when it comes to moving valuable equipment. We have a one of a kind 'Boxless Move' capability that allows us to move filling cabinets properly and with the contents in place. This could save several hours in doing the packing and unpacking of things. There is also a minimal chance of getting the things misplaced. Also, try and conserve resources through the elimination of cardboard boxes stacks.
With the help of our truck fleet, it can limit jostling and bouncing because it is most notably made for commercial moves. It has the systems of air-ride suspension. This fleet is also packed with GPS technology in order for customers to view the tracking of their equipment.
If you will be needing storage, it can store your media files and records in our facilities at reasonable costs. We have a designated Archives team that can rotate files and store magnetic media, boxes, and others. We can also backup tapes securely with on-demand accessibility.
After your move
Once unloaded, unpacked, and reconnected in the new area, we are capable of managing any left behind items from the old location. We are able to support your move even if you want to get rid of unwanted things. Ever forget why you are hanging on to something? Put working things to good use and donate them to goodwill. We can even share unwanted hard drives, documents, and other media etc. As a means of safety, get rid of or recycle the assets that are no longer reusable. On the whole, we must keep any waste to the least that we could.
* Labs and medical offices
* Data centers
* Educational institutions
* Distribution centers
* Distribution centers
* Museums and libraries
* Industrial operations
Our company can offer the best assistance in the office moving industry across the nation's capital in Los Angeles. We will uphold the continuous development and productivity of the relocation company.
As a premium service provider specializing in commercial moves, furniture installation, and storage, we aim to provide our clients with the best service possible. We have already established a high benchmark in the industry. Currently, we are the nation's largest commercially-concentrated relocation company. We originated in the region of Mid-Atlantic and have national reach. Our leadership changed the once-fragmented industry to consistent and professional business. We operate with the utmost levels of the industry's efficiency and standards. This implies that our clients will receive anything but exceptional customer service from the entire members of the team. Having the highest quality service, we take pride in our expert staff. This means we have experts from our managers to our drivers and movers and we all aim to uphold the highest of standards possible. We hold the best benchmark standard, towards which the industry assesses itself. In every move, there will always be a team in charge, including the management, sales, and executive leaders. During a weekend move, it is quite normal for customers to meet or see one of the members of our executive department. It can either be the Vice President, President, or our CEO. This only proves our consistent dedication to our customers.
We have more resources than the rest of the commercial movers around. We send out human resources and equipment to and from our location in California. This includes a center that can entirely store and manage valuable assets. As a means to make sure that the resources are working at its finest for the clients continuously, we ensure to conduct a survey in every move. This leads for us to receive 98.5% of customer satisfaction on an average. Of course, we have a goal of 100% yet we know that moves can be quite challenging. This is why we always represent the best option that can help with the move. In our field, we have the most combined resources and knowledge in any professional organization. Together, with enthusiasm and distinctive practices can help deliver perfect satisfaction to clients. Although there are inevitable obstacles along the way of course. It has made us the number one choice in office moving companies within our area. The excellent services resources we provide is what makes TCM a top recognized commercial move company. This accolade comes to us by several business organizations.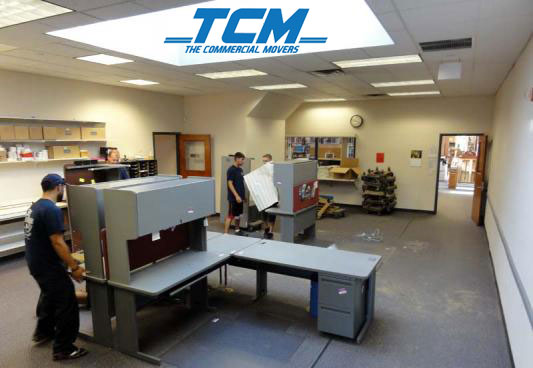 Additional Office Relocation Services
Aside from the obvious assistance that we give moving your office, we provide other services. This allows us to give informative answers to your internal clients such as:
* Disconnection/reconnection of computers and other electrical equipment like data center and server room moves.
* Office shredding on site or off site so as to make your pre-move purge process quick and easy. We also give assistance to an ongoing program of document destruction and shredding.
* Recycling of obsolete electronic devices, along with destruction certificates that can represent the destruction of a hard drive. This can validate that your equipment has properly been disposed and recycled.
* Archiving of offices that give storage of records in asset tracking environment that allows the proper storage and retrieval of records.
* Installation of cubicles with top notch delivery of furniture and installation services. OII is certified on all popular furniture systems. Hence, it could efficiently install even the most delicate wood case goods and modular products.